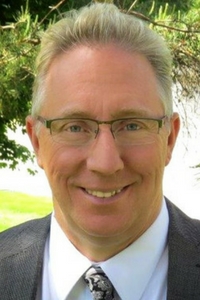 Carl Good, Acc.FM
Carl Good was born and raised in York Region. After studying Law Enforcement at Seneca College and graduating with an honours diploma, he worked as a Housing Authority Officer for Metro Toronto Housing Authority. He had a passion for community policing focusing on child protection, safety of the community and the prevention of criminal activity.
Taking his interests in another direction, Carl then started Business Financing and Mortgage Brokering after completing courses with the University of Toronto and the Society of Management Accounting. He assisted small businesses in financing and brokered financing for residential construction and commercial development.
A few years after moving to London, Ontario he opened a direct burial and cremation service.  His desire was to assist families in arranging final dispositions for their loved ones. The business opened in 2008 and operated under his direction until June 2016.
From there, he took his passion for assisting families in times of crisis and turned his attention to mediation as an accredited mediator with the Ontario Association for Family Mediation, servicing London and the surrounding areas.
Carl is the father of two young children and a man of strong family values. He loves playing golf, camping with his children and at the age of 48 started playing baseball again. Giving back to the community is an important priority to Carl. Most recently he is rewarded through his coaching endeavours in little league baseball.
Julie Gillen
Julie was born and raised in Southwestern Ontario. She received her professional customs designation in 2002 (C.C.S.) and continued her career in logistics where she went on to become an Operations Supervisor to a local Logistics company specializing in global Military shipments. In 2010, Julie opened her own Travel Agency and received her CTC (Certified Travel Counsellor) designation in 2012. She has continued to enjoy her passion for travel and a successful career in planning trips for her clients.
Family life wasn't always easy and raising 3 boys of her own and eventually a blended family, Julie found herself in crisis dealing with Family Law issues. It was these personal experiences that led her to realize there had to be a better way to handle separation and divorce. The current system appeared to be failing her, her family and countless others.  This led Julie to her new-found career goal, Family Mediation. She began her training in 2017 and joined Good Family Matters in 2019.
Julie is excited to be on this new path and is very passionate about helping families find positive alternatives to the family court system.